I have loved building my business…I love the actual work and I love the people.  I have become friends with so many, many of whom I would have never crossed paths with had I not the opportunity to work with them and their families.  It hasn't been easy, the business building.  Its long hours of work, constant learning the technical aspects of my craft, keeping up with trends, and just the daily grind of "business stuff", like paying taxes, maintaining an old building, and boring administrative work.
But we had some hard times this summer.  That wind storm was a doozy, and though you may not have seen the damage so much from the outside, the inside of our Main Street business was destroyed.  The roof was left with multiple holes, one as large as 5′ in diameter and showing sky.  The water damage was massive.  The entire ceiling and all the insulation came down.  The electrical system was fried, the air conditioners were ripped from the rooftop.  Everything was soaked, the gym equipment rusted immediately and the cardio equipment was ruined.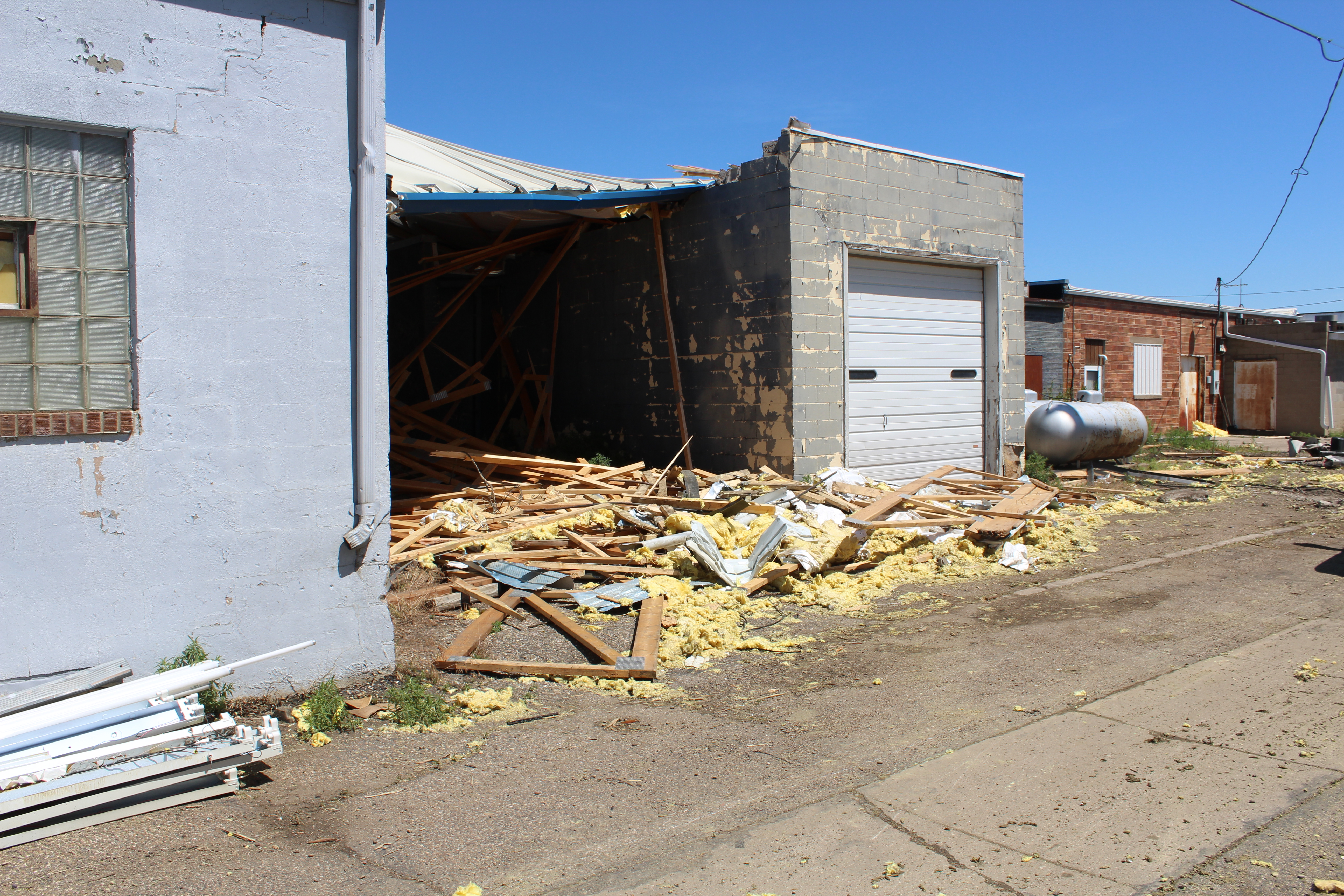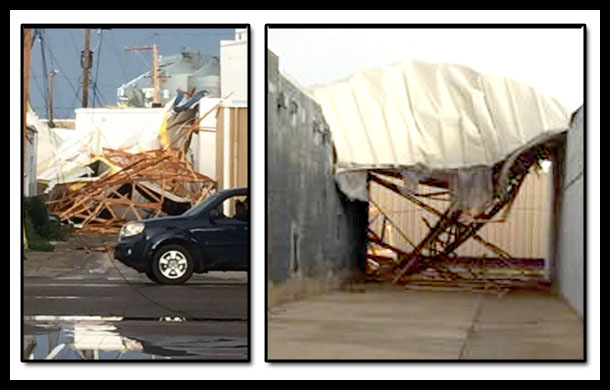 It took 6 weeks to reopen the gym doors and it still is not quite finished.
I am thankful that the only damage done to the studio side was water across the ceiling and some coming through the dividing wall between the gym and studio.  But fear of the ceiling coming down in studio, prompted me to move everything from the camera room into the entry and office area.  Along with gym equipment, it all made for a lovely window display out onto Main Street.  Many people thought I was closed down as well and that hurt.
But here's the thing….there are so many great people here!  So many that jumped up and said, "how can I help"!  And I don't know why this surprised me, but it did just a little.  This wasn't a personal tragedy as if our home had been destroyed.  It was a business…not so personal to most.
Jesse Flath and his dad Warren, Western Frontier Insurance, were the first.  They were there immediately, helping salvage what we could right away and even trying to patch the roof while the rain still came down.
James Sayler, West Dakota Lumber, came home from his vacation and got the ball roll rolling right away to get us the materials we needed to start repairs.
Speidell's found us the some flooring once the water was finally gone.
Nick and Andrea Scharbach, D'Andrea's Restaurant  lent us their storage space to keep the gym equipment while the interior was restored.
Westsern Steel Builders cleared the debris from the alley.
Mark Olson, Olson Electric, repaired the electrical system and got us back to code.
Keith and Crystal Kruckenberg (and their kids), Kruckenberg Construction, worked like banshees getting the ceiling put back up and the walls covered in fresh paint.
Specialized Cleaning and Restoration was fabulous and worked for days getting the mess out so that re-building could begin.
Our local businesses came out in force to help us get back on our feet as quickly as possible!
Add to that the great people that came by and lent their hands to all the messy work:  Laird and Jake Sheer, Thomas Leintz, Hunter Wood, Randy Geigle,  Nick and Ang Scharbach,  Jesse Flath, James Sayler, Tony Melberg,  Dave from Texas, Delanie Wiedrich, Aimee Grace Wiedrich.
And then – AND THEN – the Hazen Chamber of Commerce and the Hazen Lion's Club sponsored a Fleischkeuke Benefit for the businesses effected by the storm!  Something that had never done before.  And the turn out was more than incredible!  It was over whelming and left me feeling quite humbled.  I saw friends frying up the fleischkeule, running back and forth trying to keep up with the demand, some of our youth sitting in the rain taking the donations, and people arriving with armloads of baked goods to donate.  When the line became too long for the fry truck to keep up with, Krause's Super Valu volunteered their kitchen to help!  I watched people standing in line in the rain to order up some fleischkeukle.  I know they are delicious and hard to make and these benefits are a great time to satisfy the craving for them, but still…all these people were spending their money knowing that it would help out some of their local businesses and friends!
There have been countless examples through the years about what a special community we live in.  I myself have  participated in benefits and even organized one myself for a friend I love.  I suppose I just never thought we would be on the other side of the story and it was humbling to find ourselves there.  The urge to say, "Oh, thank you, but we can manage" is strong.  But we needed this…maybe spiritually most of all.
I'm not the biggest fan of that tired saying, "Its takes a village"….  so let's say it takes a town…it took our town to come together and make us feel like our businesses mattered, that our Main Street is valuable, and they want to see us get back on our feet and succeed.   We really do have an awesome little down town.  Its busy and thriving and cute.  And as sad as it is to say, that's a little unusual these days.  Small local businesses struggle to stay afloat and many small town Main Streets have empty holes where businesses used to be.  I am proud to say that Hazen is the home of our businesses because our town cares, shops and supports the businesses and families that run them.  It couldn't be done without the whole town!
And thank you to those who waited patiently for the gym to reopen…who didn't jump ship and find another place.  Really, that means more than we can say!
And thank you to those who called and asked for photo sessions, wondering if I was working or not, but still called!  I needed that!  I really did.
The gym is officially re-opened and the studio is (as always) booking photo sessions!  Please give us a call!  And Thank You!
Please continue to support our local businesses by shopping and using local services.  Its the only way to keep our Main Street alive and thriving.
Links to their businesses are above…like their pages and show your love!